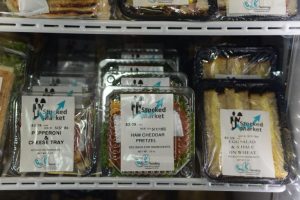 At Cee Vee Vending, we are proud to offer you a variety of vending and food service options for your company. Our Pittsburgh commissary has been serving the area since 1997, and when combined with our micro market, it can provide outstanding food options for those who request our services.
By adding our services to your business, our commissary can prepare larger servings and healthy choices for you and your employees. We can cater to all of your employees and their eating habits, such as vegetarian and gluten-free. Whether you need breakfast, lunch, or dinner options, we can prepare a variety of meals to keep your staff full and satisfied.
You want to ensure you are choosing a commissary that is clean and up-to-date on all inspections. At Cee Vee Vending, the FDA and the Pennsylvania Department of Agriculture regularly inspect our Pittsburgh commissary so you can ensure all of our prepared foods are in strict accordance to food service procedures.
We offer food samples to those interested in utilizing our food services for their company. We have a variety of menus to choose from, and we can cater to employees with a range of dietary restrictions. Contact us today to schedule a sampling of our prepared foods by calling (800) 826-3961.