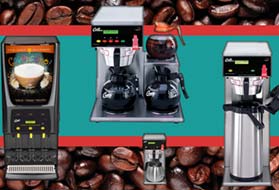 When it comes to high-quality coffee in Pittsburgh, PA, it takes more than a great vendor to deliver the taste your office needs. For that, you need the right brewer, and there are plenty of options to choose from. Whether you use premade cups or machines that grind to order, choosing equipment that matches your team's needs is the first step toward a consistently great cup of joe every day.
Each office is unique, but choosing the best machine for yours doesn't have to be a hassle. There are a few key factors to consider that help you narrow your choices and get the most for your money:
Vender Availability — The easiest way to keep great coffee in any workplace is to partner with a vendor. Unfortunately, that sometimes means working within that company's available products. Even so, most major vendors offer plenty of variety.
Output and Demand — Like any investment, it's worth looking at the overall need and impact that a coffee machine might have on your workplace. How many people drink coffee in the office? What flavors are most popular? Answering a few basic questions like these can help you gauge what kind of daily output you need to account for.
Convenience — Today's coffee brewers are usually designed to be intuitive, but some still feature more complexity than others. While this might translate to more options for your caffeine fix, choosing something simple can lead to less time trying to decipher brewing processes in the break room.